1975, Vintage Dom Perignon P3 Plentitude Brut, Champagne, Epernay, Champagne, France, 12.5% Alc, CT97 JS97 RP96
| | |
| --- | --- |
| Article number: | 1975, Vintage Dom Perignon, P3 Plentitude |
| Availability: | In stock |
CALL 727-898-9463 to Order
this Item will not process through our Website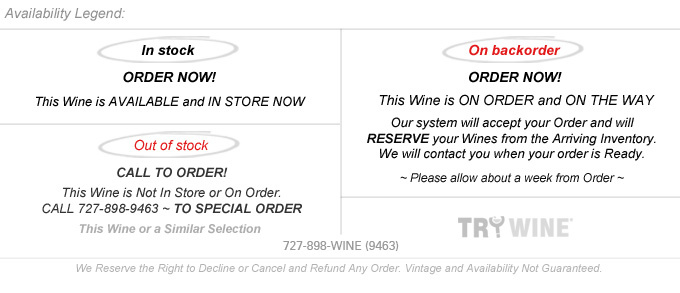 THE 1975 HARVEST 
 Weather conditions were good throughout the year. As a result of a cold spring, budbreak was extremely late, but flowering took place under near-perfect conditions. The summer was hot and sunny, punctuated by a few storms in August. Harvesting began on September 29 with good weather, which deteriorated rapidly.
On the nose 
The lightly refreshing attack, with an initial rush of grapefruit, immediately leads to notes of flowery honey and toasted hazelnuts combined with roasted aromas and exotic spices.
On the palate 
The wine in its entirety is particularly consistent, the palate of flavors a mirror of the bouquet's promise. The classic beauty of a remarkably complex and well-balanced vinosity is extremely attractive. The taste of the fruit is still surprisingly present at this age, acting as a signature note to the finish which marries warm aromas of new leather and gingerbread. 
About Plentitudes; P1, P2 & P3
This refers to time on the Lees. Lees are the deposits formed by yeast left in each bottle after fermentation. They are essential to reach the Dom Pérignon spirit. During maturation, there is a three-way interaction between the wine, the lees, and oxygen. The wine is actively evolving during this process. Over time, the lees help to protect the wine from oxidation and preserve the fruitiness and freshness of the wine. 
The uniqueness of Dom Pérignon vintages lies in the way they evolve - not steadily and in a linear way but through successive windows of expression that are called "Plénitudes.
P1 = 7 Years on the Lees
P2 = 12 Years on the Lees
P3 = MINIMUM 20 Years on the Lees
This P3 label, plénitude troisième, with optimized complexity, is only released after a minimum of 20 years on the lees. It is only the cellar master who can determine when the wine has reached that optimal stage in its evolution. To guarantee its excellence, each and every P3 bottle is tasted at disgorging by a Dom Pérignon winemaker.
98 Points Vinous
Painfully – almost shockingly austere – the 1975 P3 bristles with energy and tension. Readers lucky enough to own it will want to wait at least five years. Even after several hours of air, the 1975 P3 remains wound up and tense, but with a sense of energy that is likely to literally explode with a bit more time in bottle.
0
stars based on
0
reviews