2009, Louis Roederer Cristal Magnum 1.5l, Champagne, Reims, Champagne, France, 12% Alc, CTnr JS97
| | |
| --- | --- |
| Article number: | 2009, Roederer, Cristal 1.5l Magnum |
| Availability: | Out of stock |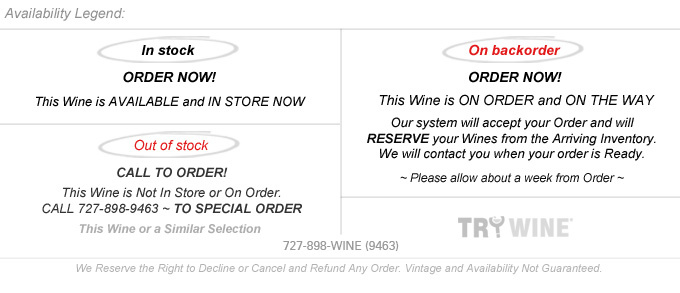 WS100, WE98, RP96
Winemaker Notes
Cristal, the jewel and tête de cuvée of Champagne Louis Roederer, was created in 1876 for the Tsar Alexander II of Russia. It remains faithful to its origin, inspired by elegance and purity. Cristal is produced with regimented standards of winemaking that require a rigorous selection of crus, vintages, grapes, and wine.
Cristal is produced using only the finest vintages from crus guaranteed to originate from the Louis Roederer vineyard. All the exceptional characteristics of the 2002 vintage have literally been captured in this Cristal 2002, which is generous and lush, revealing perfect balance between concentration and finesse, freshness and vinosity, intensity and refinement. In three words: proud, rich and luxurious.
Cristal 2002 is brilliant yellow with light amber highlights and has a beautiful mousse with fine cordon of persistent and regular bubbles. The nose is intense and delicate, revealing a clean and well-blended mixture of flavors of honey, cocoa, lightly toasted hazelnuts, candied citrus fruit. A savory explosion of ripe fruit on the attack, the wine reveals red fruit, white chocolate, caramel and Danish pastry, typical of Cristal. Its silky, concentrated texture relies on its intense, powerful and vinous structure, but maintains refinement. The palate builds up to attain a delicious sensation of well-blended harmony of flavors. A fresh finish with a hint of bitterness makes it almost crunchy.
If a wine could ever make you want to pull the top down on your '68 Ferrari convertible, rip off the rearview mirror and take off, this is it. It has a different kind of energy than the '02 Cristal Rose, which is more ethereal, like strawberries at the right hand of some ancient Gallic god. This is more insolent, brash, earth bound. All the scents and flavors seem to emanate frm limestone, as does the acidity, which hits at the front of the mouth and powers through the wine with the kind of solar energy that lifts mist off the white chalk on a cool morning in Cramant. The wine goes on for miles. It's already irresistible, and will only improve with ten, 20, 30 and 40 years of age.
This is an exceptional wine, as is the vintage. The fruits—grapefruit, crisp red apple—balance with a fine yeasty character. There is a great depth of flavor, the fruits going in a pure line of freshness. The one problem is that it is much too young, the result of the demand from the market for the next vintage. Age this wine for at least four years.
Roederer's 2002 Cristal is still in its infant, fresh stage. Subtle notes of pears, flowers, spices, mint, minerals and oak are woven into a cashmere-like frame of extraordinary grace and elegance. This beautifully-sculpted Champagne possesses notable clarity but with the additional depth of fruit that is characteristic of this vintage. It is a gorgeous, seductive Cristal of the highest level. In 2002, Cristal is 60% Pinot Noir and 40% Chardonnay with 10 grams of dosage. 20% of the wine was fermented in oak.
0
stars based on
0
reviews