2011, Marchesi Pancrazi, Villa di Bagnolo, Pinot Noir, Toscana IGT, Tuscany, Italy, 14% Alc, CT90.5, TW92
| | |
| --- | --- |
| Article number: | 2011, Marchesi Pancrazi, Pinot Noir |
| Availability: | Out of stock |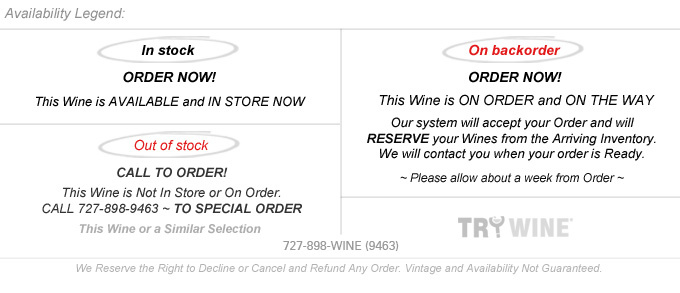 About Marchesi Pancrazi, Pinot Nero, Villa di Bagnolo

A CLEAN, CRISP, Wonderfully Balanced and Satisfying "OLD WORLD" Pinot with Nice Depth and Power.
This is a Beautiful Wine with a flexible, rich, deep flavor rolled up in a light and refreshing envelope. It is produced from grapes harvested from different clones of Pinot Noir of Burgundy origin. This Estate Vineyard of Villa di Bagnolo is located in the Toscana IGT at the foot of the extinct Tuscan Volcano Monte Ferrato at a height of about 150 meters above sea level and was Planted to Pinot in 1970 quite by accident when they wanted to replace about 300 of their Old Sangiovese Vines and where accidentally given these Burgundy Pinot Clones. The accident was not realized for many years, the late 1980's to be exact, but now this Vineyard and the Wines Produced here have become a coveted mistake for the Winery. These Legendary Vines are now 50 years Old.

This terrior is ideal for the cultivation of Pinot Nero (Noir). Rich in iron and other minerals, this clay and slate soil, and micro-climate with a significant difference of day and night temperatures, as well as perfect amount of rainfall are all extremely conducive to the cultivation of Pinot with depth, elegance, and power and producing a very unique Pinot flavor profile.

These grapes are harvested and de-stemmed by hand, usually in the first half of September. Fermentation and maceration takes place in steel tanks and in small oak barrels. After the end of vinification the Wine is transferred to Age in French oak barrels, of which 1/3 are New Annually. After bottling the wine spends at least another 12 months resting in bottle before release.
| Chris Garner
24-05-2021 11:53
Fantastic Pinot Noir from Italy. Wonderful aromas of flowers, herbs, cherry and oak with a dry, medium acidity, light body and flavors of cherry, herbs, and oak (I don't really remember what I noticed). Overall, this a great Pinot Noir for fans of Burgogne/Burgundy Pinot Noir.
5
stars based on
1
reviews