2014, The Mascot by Will Harlan, Cabernet Sauvignon, Napa Valley, Napa, California, 14.8% Alc, CTnr
| | |
| --- | --- |
| Article number: | 2014, The Mascot by Will Harlan, Cabernet Sauvignon |
| Availability: | Out of stock |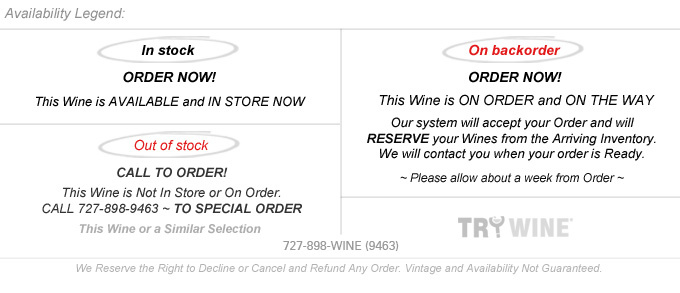 by Will Harlan:
Although I grew up running around the winery, hand-turning de-stemmers, and eating grapes off the vines in our backyard, I never thought I'd discover my own passion in making wine. My family has been in the business longer than I've been around, but it was only a handful of years ago that curiosity led me beyond the event horizon of this world. It began with the experience of learning the complexities of blending wine in 2008, and progressed steadily until I found myself working in the cellar, handling barrel fermentation throughout the harvest of 2012.
The Mascot began early on as an experiment, after talking the family and winemaking team into sparing a few barrels of wine—produced from our younger vines of Harlan, Bond, and Promontory Vineyads—to explore a blend of my own. In the first few years, before it had a label or a name, it was just a wine shared with friends and family. It wasn't until the 2008 vintage, our first official release, that we had enough to share with new friends,
This cabernet is a hedonistic blend of power and balance; expressive and approachable early in its life, with potential to evolve well into the future. Ready to drink upon release, it will age for decades given the opportunity.
The 2014 Vintage
An otherwise even growing season in 2014 was made memorable by an earthquake that struck the Napa Valley in the early-morning hours of August 24th. Dry conditions that normally prevail at that time of year were unexpectedly altered; the geologic event had shifted the water table to the extent that many seasonal streams began to flow once again. This unusual circumstance brought unaccustomed moisture from the depths and, with it, renewed energy to many of the soils throughout the valley. In the wake of this phenomenon, we noticed subtle changes to the younger vines of BOND, Harlan Estate, and Promontory, which grew more vibrant as harvest approached. The resulting wine reflects this vibrance in its lift and flow across the palate, with its quality ringing true to the pedigree of its parent sites. Red fruit and baking spice intermingle on the nose, while on entry, the wine is soft, gently accelerating as it reveals athletic structure and shape, culminating in transparency and poise.
0
stars based on
0
reviews