2015, The Mascot by Will Harlan, Cabernet Sauvignon, Napa Valley, Napa, California, 14.8% Alc, CTnr
| | |
| --- | --- |
| Article number: | 2015, The Mascot by Will Harlan, Cabernet Sauvignon |
| Availability: | Out of stock |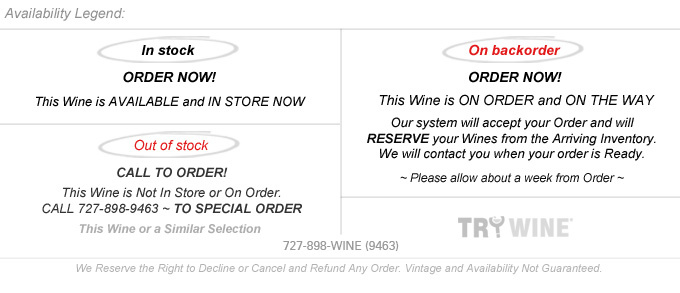 by Will Harlan:
Although I grew up running around the winery, hand-turning de-stemmers, and eating grapes off the vines in our backyard, I never thought I'd discover my own passion in making wine. My family has been in the business longer than I've been around, but it was only a handful of years ago that curiosity led me beyond the event horizon of this world. It began with the experience of learning the complexities of blending wine in 2008, and progressed steadily until I found myself working in the cellar, handling barrel fermentation throughout the harvest of 2012.
The Mascot began early on as an experiment, after talking the family and winemaking team into sparing a few barrels of wine—produced from our younger vines of Harlan, Bond, and Promontory Vineyads—to explore a blend of my own. In the first few years, before it had a label or a name, it was just a wine shared with friends and family. It wasn't until the 2008 vintage, our first official release, that we had enough to share with new friends,
This cabernet is a hedonistic blend of power and balance; expressive and approachable early in its life, with potential to evolve well into the future. Ready to drink upon release, it will age for decades given the opportunity.
The 2015 Vintage
The 2015 growing season began uncommonly cloudy and cool, particularly for a year with very low precipitation. These conditions during bloom resulted in significantly smaller yields of fruit from the younger vines of BOND, Harlan Estate, and Promontory. The summer months, in contrast, conjured stretches of intense warmth that lasted into autumn, spurring one of our earlier harvests to date. The profile of the vintage—much to our surprise—stayed true to the nature of its chilly beginnings, rather than the dry heat of its maturation environs. A deep, meditative core radiates an inner vibrancy through swells of stirringly fresh aromas. The glow of summer sunlight is felt in this otherwise cerebral wine through strength and rounded resonance on the palate. With five years of aging, the pedigree of this vintage begins to emerge with the friendly energy of a loyal companion.
0
stars based on
0
reviews