2015, Virginia Dare by Coppola, Pinot Noir, Russian River Valley, Sonoma County, California, 13.5% Alc, CTnr, TW90
| | |
| --- | --- |
| Article number: | 2015, Virginia Dare Russian River, Pinot Noir |
| Availability: | In stock |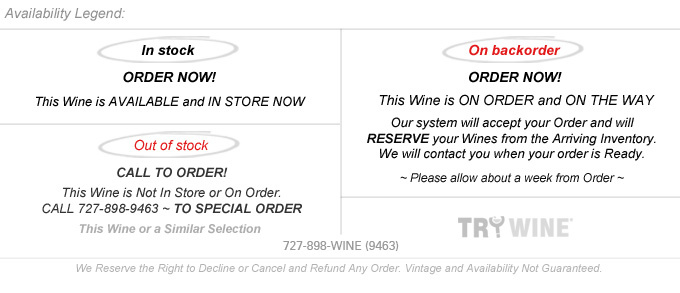 WINEMKER NOTES:
Virginia Dare Russian River Valley Pinot Noir is an inviting Pinot Noir that is uniquely expressive of its vintage, variety, and locale in the ideal microclimate of the Russian River Valley. Exotic notes of sandalwood set the scene for soft tones of red and black cherry, red plum, and blueberry, expressing a hint of floral violet and culminating in a concentrated, roasted finish. The wine carries a round, oaky structure with elegant tannins, lingering on the palate with silky warmth and just enough juiciness. The Virginia Dare Russian River Valley Pinot Noir is a classic, elegant Pinot that lives up to the legend for which it is named.
ABOUT:
"The myth of Virginia Dare always intrigued me, and as a child I remember the Virginia Dare wine because of the pretty blonde girl on the label and the 'Say it again, Virginia Dare' jingle they used to advertise on the radio," said Francis Coppola. "My goal is to revive the wine brand so that it isn't lost to future generations. The winery's new home in Geyserville is the ideal location in the heart of American wine country to tell the origin stories of American wine."
Virginia Dare was the first English child born in the New World to colonists in 1587. Virginia's fate became a mystery after her colony, now referred to as the Lost Colony, vanished from Roanoke Island in the late 1500s. Legend has it that she lived among the Native Americans and grew into a beautiful young woman trapped in the middle of a tragic love triangle when she was turned into a White Doe and ultimately killed. On the very spot where she bled and died, a grapevine sprouted with its fruit stained red. According to the legend, this is how the white wine of America became red wine. The grapevine is widely believed to be the 400-year old Mother Vine, reportedly the oldest cultivated grapevine in North America which still exists today -- a clipping of which will soon be planted in Virginia Dare Winery's estate vineyard.
The story of the Virginia Dare Winery began with North Carolina's first commercial winery, Medoc Vineyard, which opened in 1835. Two businessmen, known as the Garrett brothers, purchased the property in 1865 calling it Garrett & Company. They began producing the Virginia Dare label which quickly became one of the nation's top selling wines. With the start of Prohibition in 1919, Garrett & Company was forced to move, first to Brooklyn, New York, and then to Cucamonga, California, where the business transformed into the Virginia Dare Winery. It was one of the first wineries to sell wine after the repeal of Prohibition in 1933 and was considered a booming business for much of the late 40s and 50s, but eventually saw turmoil and nearly faded into history.
0
stars based on
0
reviews