2010, Trefethen HALO, Cabernet Sauvignon, Hillspring Vineyard, Napa Valley, California, 14.8% Alc, CT92, CG95
| | |
| --- | --- |
| Article number: | 2010 Trefethen, Halo, Cabernet |
| Availability: | Out of stock |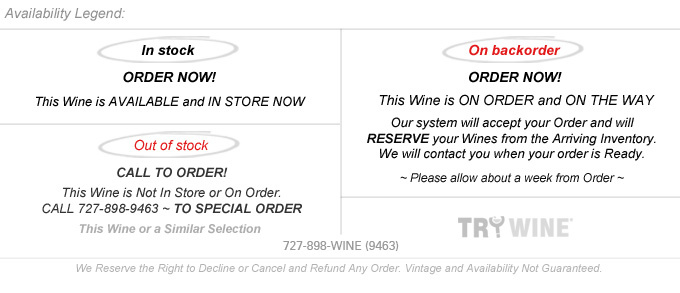 Winemaker Notes
Our flagship wine, HāLo is named for our children, Hailey and Loren, who grew up in the middle of our Hillspring Vineyard in the Mayacamas foothills of western Napa Valley, the source of this extraordinary red wine. The vineyard's rocky, shallow soils, coupled with a climate protected from fog and wind, make Hillspring the perfect spot to grow exceptional Cabernet Sauvignon.
The 2010 Vintage
The vines got off to a slow start as April and May were both cooler and wetter than average. The cool trend continued into the mild summer and a full growing season that was our coolest since 1978. The exception was one notable heat spell in late August, when temperatures soared to over 111° F! Fortunately, September and October brought enough warm days to provide a beautiful finish to the growing season, allowing us to complete harvest a full week earlier than in 2009.
The Wine
HāLo sings of its terroir. Aromas of the vineyard are intoxicating with highlights of blackberries and bay leaf. The perfume from the oak forest that surrounds the vineyard invites the palate and delivers complex and deep flavors of tobacco. The wine has a rich and velvety texture. Bold and triumphant on the palate, the flavors are robust and spicy with dark chocolate, rich cherries and a finish that goes on and on. Decanting will bring out the best in this delicious wine and the ultimate reward is given to those who can wait and let HāLo rest for a few more years in a wine cellar.
Food Affinities
HāLo Cabernet Sauvignon is best with the finest cuts of full-flavored beef, lamb and game. Enhance the dishes with thyme or mushrooms and your palate will sing.
Accolades
96 POINTS (v. 2010)
Please, ignore the lure of its deep fruit that will invite some to drink it up long before it has reached its best.
Connoisseurs' Guide to California Wine
December 2015
97 POINTS (v. 2009)
It is apparent from the very first sniff that there is something very special going on here...this benchmark bottling is the stuff of which Cabernet dreams are made.
Connoisseurs' Guide to California Wine
December 2014
#1 Red Wine of the Year (v. 2009)
Here is a wine that has garnered one of the highest numerical ratings ever given to the grape in this publication. It is an extraordinary wine...
Connoisseurs' Guide to California Wine
December 2014
4+ STARS (v. 2009)
Ronn Wiegand, Restaurant Wine August 2014
95 POINTS ~ Cellar Selection (v. 2008 & 2007)
Trefethen has been on a roll the last few years, producing some of Napa's most spectacular Cabernets.
Wine Enthusiast, February 2014
95 POINTS (v. 2008 & 2007)
Connoisseurs' Guide to California Wine December 2013
96 POINTS (v. 2006 & 2005)
"From the very first sniff, this wonderfully well-composed wine conveys enormous depth and complexity."
Connoisseurs' Guide to California Wine
0
stars based on
0
reviews